Série Wolf boy (V.O.)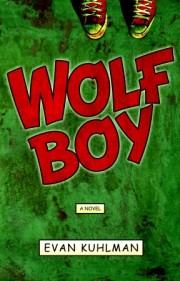 Genre : Romans Graphiques
Nombre de tome:
Albums dans la base: 1
Avancement : One Shot

---
Synopsis :
On a frosty winter's day, Francis—the sweet, generous, responsible eldest child of the Harrelson family—dies in a car accident on an ice-covered highway, and Wolf Boy is born.
The earth doesn't rumble, no angels descend, and the sun doesn't weep. Nothing, in short, to signify the deep change that each member of the Harrelson household will undergo. Parents Gene and Helen turn away from each other and look inward, losing themselves in private fantasies. Ten-year-old Crispy devises elaborate strategies for her escape from the suffocating clutch of the Harrelson home and into the waiting arms of pop star Marky Mark.
But the heart of this family portrait is younger brother Stephen, who, along with his quirky and creative friend Nicole, crafts an alternative reality in which their comic book hero, Wolf Boy, battles the forces of evil, champions the powers of good, and fights to keep his family intact. Through Wolf Boy, Stephen finds an outlet for his grief and a concrete expression for his place in a family spiraling out of control and for all the natural yearnings and hopes of a typical thirteen-year-old. Wolf Boy's adventures are featured throughout the book, introducing a graphic-novel subplot that adds humor and visual interest and stretches the limits of the conventional novel.
---