Série Batman Arkham : Hugo Strange (2018)(V.O. anglais)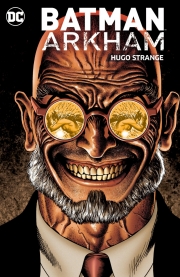 Genre : Comics
Nombre de tome: 1
Albums dans la base: 1
Avancement : One Shot

---
Synopsis :
One of the Dark Knight's oldest enemies, Hugo Strange is the first foe to determine Batman's true identity: Bruce Wayne, mild-mannered playboy billionaire! In Strange's first appearance, he was a simple mad scientist turned bank robber, but after being foiled by the Caped Crusader, he dedicated his life to taking revenge on Batman and assuming his identity.
Batman Arkham: Hugo Strange
), Steve Englehart (
Green Lantern
), Gerry Conway (
Justice League of America
), Doug Moench

(Batman) and

many more!



---