Série Buffy the Vampire Slayer Omnibus : Tales (2018)(V.O. anglais)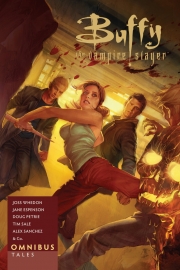 Genre : Comics
Nombre de tome: 1
Albums dans la base: 1
Avancement : One Shot

---
Synopsis :
Collects
Buffy the Vampire Slayer: Tales of the Slayers (2001) OGN SC
Buffy the Vampire Slayer: Tales of the Slayers (2002) #1
Buffy the Vampire Slayer: Tales of the Vampires (2009) One-Shot
Drawing On Your Nightmares (2003) #1
MySpace Dark Horse Presents (2007) #31, 32
Tales of the Vampires (2003) #1-5
Series creator Joss Whedon unites with writers from the television series and comics creators to tell tales of the vampires and Slayers through time--including stories set during the New York Times bestselling Season 8!
uffy was never the first Slayer, nor will she be the last . . . Here we delve deep into the histories of the young women--Slayers--destined to fight against the vampires, the demons, and the forces of darkness. You'll find stories of Buffy, Nikki Wood, Melaka Fray, and even the primitive first Slayer, among others. In the tales of the vampires, you'll find stories of dungeon-dwelling vampires and also those in the modern age--including a few dealing with the latest in vampire trends from Season 8: living in the public eye. And you'll see some familiar vampires as well, like Angel, Spike, Drusilla, and Dracula . . .
It's an anthology that explores the mythos of the Slayers and vampires, written by Joss Whedon, along with Buffy the Vampire Slayer actress, Amber Benson, the amazing writers of the television series including David Fury (24, Lost), Doug Petrie (Daredevil), Jane Espenson (Once Upon a Time, Battlestar Galactica), Rebecca Sinclair (Gilmore Girls), Drew Goddard (The Martian), the creator of The Tick, Ben Edlund (The Venture Bros., Firefly), novelist Jackie Kessler (Hell's Belles), and Becky Cloonan (Demo, Batman), and illustrated by comic book luminaries such as Cameron Stewart (Fight Club 2), Tim Sale (Batman), Alex Sanchez (Star Wars), Karl Moline (Fray), and Leinil Francis Yu (Ultimate Avengers).

---