Série Sky Masters of the Space Force (2018)(V.O. anglais)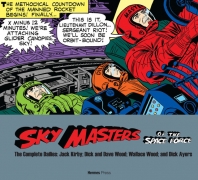 Genre : Comics
Nombre de tome: 1
Albums dans la base: 1
Avancement : One Shot

---
Synopsis :
Jack Kirby's comic strip masterpiece is presented in an archival version featuring the complete dailies from
Sky Masters of the Space Force
.
Sky Masters
was created at the beginning of the space race - when who would get into space and to the moon first - was a national obsession. The strip takes place in the not-too-distant future where the United States sends men into space but hasn't ventured much further yet. Veteran scripters Dick and Dave Wood provided these late-1950s space/action adventure stories. Kirby's artwork resembles his contemporaneous work on
Challengers of the Unknown
and was embellished by Wallace Wood and Dick Ayers. The material used in this archival edition ranges from original art, to press proofs, to tear sheets, and boasts the best reproduction of the strip ever, essays, and documentary material.
---