Série Frank Miller's Sin City (2005)(V.O. anglais)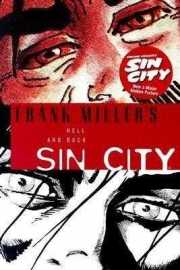 Genre : Comics
Nombre de tome: 7
Albums dans la base: 7
Avancement : Fini

---
Synopsis :
These trade paperback editions were initially released to coincide with the "Sin City" movie. These editions are in a
smaller 6"x9" format
and include volume numbers on the spines, unlike previous editions. It is with these editions that vol. 01 is first titled "The Hard Goodbye" - all previous editions of vol. 01 were simply titled Sin City (1992).
---
Séries liées :
Sin City : Hell and back (1999)(V.O. anglais)
|
Sin City : Family values (1997)(V.O. anglais)
|
Sin City : That yellow bastard (1996)(V.O. anglais)
|
Sin City : The big fat kill (1994)(V.O. anglais)
|
Sin City : The Hard Goodbye (1992)(V.O. anglais)
|
Sin City : A dame to kill for (1994)(V.O. anglais)