Série The Complete Crimson (2018)(V.O. anglais)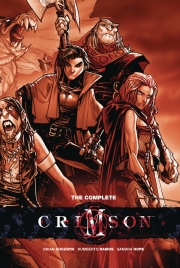 Genre : Comics
Nombre de tome: 1
Albums dans la base: 1
Avancement : One Shot

---
Synopsis :
Collects
Crimson (1998) #1-24
Crimson Sourcebook (1999) #1
Crimson: Scarlet X Blood on the Moon (1999) #1
The complete Crimson series, from  Humberto Ramos (Amazing Spider-Man) and Brian Augustyn (Batman: Gotham By Gaslight), collected all together for the first time ever!
Alex Elder isn't your average teenager. Or at least not anymore.
After being attacked by a gang of vampires, strange powers and abilities have taken over his life. Put in the care of Ekimus, the last of an ancient species pre-dating mankind, Alex must learn to embrace his destiny as "the Chosen One." Tasked with bringing an end to the vampires, he will find that there are much scarier things that go bump in the night.
---
Séries liées :
Crimson (1998)(V.O. anglais)