Série Poochytown (2018)(V.O. anglais)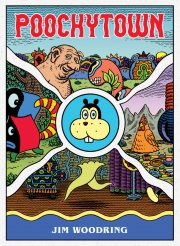 Genre : Comics
Nombre de tome: 1
Albums dans la base: 1
Avancement : En cours

---
Synopsis :
Frank forms a new friendship and journeys to the farthest reaches of the Unifactor in the latest graphic novel in the saga.
Jim Woodring, one of the most celebrated alternative cartoonists of his generation, returns with an unexpected adventure starring his trademark character, Frank.
Poochytown
takes a deep dive into the psychedelic, ever-twisting reality of Woodring's boundless universe, the Unifactor. Black & white illustrations throughout.
---