Fiche Auteur Barrows, Eddy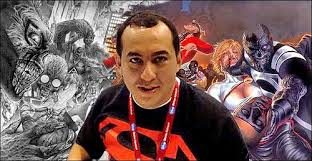 Pseudo :
Barrows, Eddy
Nom :
Barrows , Eduardo
Activité :
dessinateur
Albums dans la base:
99
Eduardo Barros est un
artiste de
bande dessinée brésilien
, mieux connu sous son pseudonyme d' Eddy Barrows . Il est surtout connu pour son travail à DC Comics sur des titres tels que Birds of Prey , compte à rebours à l'aventure , Action Comics , Superman , Teen Titans , et 52 .


Barrows est né à
Belém do Pará
, au Brésil . Lui et ses parents ont déménagé à Belo Horizonte , Minas Gerais quand il avait 2 ans. Pendant son enfance, sa mère a ramené à la maison Turma da Mônica - une bande dessinée brésilienne par
Maurício de Sousa
- et travaille de la compagnie de Disney. Elle lui a lu les livres, et Barrows a dit qu'il est tombé amoureux des bandes dessinées immédiatement. Il lit encore Turma da Mônica à ce jour. Chico Bento reste son personnage préféré. De là, il a finalement commencé à dessiner. Bien que n'étant jamais allé à l'école spécifiquement pour l'art, Barrows a étudié l'animation pendant deux ou trois ans avant de devenir artiste.
Quand Barrows avait 22 ans, Belo Horizonte, il a commencé à travailler en faisant des photos pour les livres scolaires, les livres pour enfants et les agences de publicité. Pendant ce temps, Barrows a abandonné la bande dessinée pendant un moment. Quand il avait 24 ans, il est retourné à la bande dessinée en faisant des tests pour les studios Art & Comics. Quand il a obtenu l'approbation, il a commencé à s'entraîner pendant 6 mois. Peu de temps après, une carrière dans la bande dessinée a été mise sur la voie rapide. Son premier travail a été une bande dessinée de cravate pour la
World Wrestling Federation
sur Stone Cold Steve Austin à
Chaos Comics
. Après six numéros de cette série, Barrows a estimé qu'il avait besoin de «plus de pratique». Il a pris une pause de la bande dessinée et reviendrait quand il se sentirait prêt. [la citation nécessaire ]
Il est revenu à la bande dessinée en 2003, quand il a atterri GI Joe pour IDW Publishing . Barrows a décrit l'expérience comme «incroyable», se sentant enfin prêt et bon à propos des pages qu'il a envoyées à ses auteurs. Barrows est devenu l'artiste officiel du livre jusqu'en avril 2004, date à laquelle il a de nouveau décidé de quitter la bande dessinée et de passer plus de temps au Jornal Estado de Minas , un journal local. Au milieu de l'année 2004, Joe Prado a appelé Barrows pour lui demander s'il voulait revenir aux Studios Art & Comics, qu'il a accepté. [la citation nécessaire ]
Après avoir illustré une bande dessinée pour Avatar Press , il a soumis trois pages de test à DC Comics , après quoi ils l'ont embauché pour travailler sur Bloodhound . Suite à cela, Barrows a contribué à Batman: Secret Files Villains 2005 et trois numéros de Birds of Prey . De là, Barrows est devenu un artiste sur la série hebdomadaire 52 et a ensuite fait équipe avec l'écrivain Gail Simone sur The All-New Atom . Après avoir quitté Atom , l'éditeur Eddie Berganza a proposé Countdown To Adventure .
Barrows a assumé des tâches de crayonnage avec Teen Titans pendant un an avec l'écrivain Sean McKeever , et a fait équipe avec l'écrivain Greg Rucka pour courir sur le plus long titre de DC, Action Comics . [2] En 2010, Barrows est devenu l'un des principaux artistes de la famille Superman de DC, en collaboration avec l'écrivain James Robinson sur la mini-série de Black of Night de Man of Steel, illustrant l'histoire principale de Free Comic Book. La guerre du jour des Supermen zéro-issue, et fournissant les couvertures à cette série principale.
Barrows a commencé sa carrière en tant qu'artiste sur Superman DC, avec l'écrivain J. Michael Straczynski pour la course de l'écrivain sur le titre principal de Superman , en commençant par l' arcade Grounded avec une entrée de dix pages dans le numéro 700 (août 2010).
DC
52 # 8, 12, 18, 22, 44, 49, 52 (2006-07)
Bandes dessinées d'action ( Nightwing & Flamebird ) # 875-876 (2009)
Atome vol. 2 # 4-6, 9-11 (2006-07)

Batman Villains

Secret Files et Origines # 1 (2005)
Birds of Prey n ° 85, 87-88 (avec Joe Bennett ) (2006)
Bandes dessinées détectives # 934-935, 939-940, 944, 946, 950, 965-966 (2016-17)
Nuit la plus noire :

Mini- série JSA , # 1-3 (entre autres artistes) (2010)
Mini- série de Superman , # 1-3 (2009)
Contes de la mini-série de 3 numéros du Corps , # 2 (2009)

Checkmate Vol. 2 # 14 (avec Joe Bennett ) (2007)
Compte à rebours jusqu'à l'aventure ( Adam Strange , Animal Man ,

Starfire

), mini-série, # 1-3 (2007-08)
Firestorm Vol. 3, # 21 (avec Jamal Igle ), # 22 (2006)
Green Lantern Vol. 4, n ° 41-42 (avec Philip Tan ) (2009)

Justice League of America

Vol. 4, # 34 (avec Ardian Syaf) (2009)
Nightwing Vol. 3 # 0-3, 5-10, 15-16 (2011-13)
Suicide Squad vol. 4 # 11-15 (histoires de sauvegarde, 2016-17)
Superman Vol. 1 # 700-701, 705, 709 (2010-11)
Superman Vol. 3 # 23-24 (2013)
Superman 80-Page Giant (fonction Superboy , 2011)
Superman: mini-série de la guerre des Supermen , # 0 (2010)
Teen Titans Vol. 3 # 53-54, 56-57, 59-60, 62-63, 65-66, 68 (2008-09)
Teen Titans Vol. 4 # 17-22 (2013)
Martian Manhunter Vol. 4 # 1-6 (2015)
Contenu soumis à la licence CC-BY-SA.
Source :
Wikipédia
anglais
Voir plus...
Voir moins...
---
Derniers ajouts...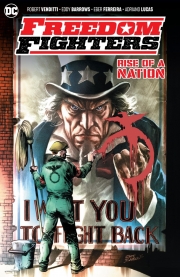 ---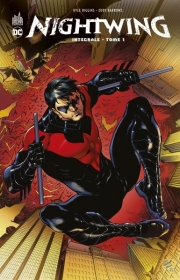 ---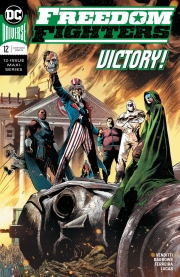 ---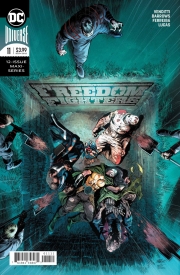 ---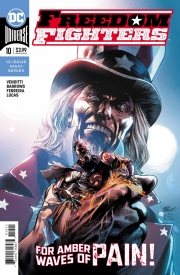 ---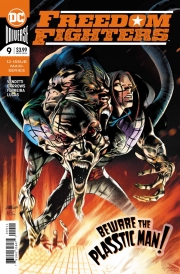 ---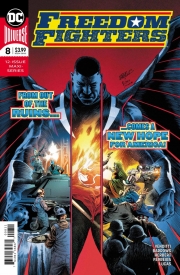 ---